The Philippines is a Southeast Asian country in the Western Pacific, comprising more than 7,000 islands. Its capital, Manila, is famous for its waterfront promenade and centuries-old Chinatown, Binondo. Intramuros, a walled city in colonial times, is the heart of Old Manila. It's home to the baroque 17th-century San Agustin Church as well as Fort Santiago, a storied citadel and military prison.
President:
Rodrigo Duterte
Trending
Currency:
Philippine peso
Official languages:
English, Filipino
At a Glance
Home to over 7000 islands, the Philippines is one of those destinations that is largely underrated compared to other destinations in Southeast Asia. However, for the travelers that do go, you will be rewarded with endless white sandy beaches, crystal clear waters, gleaming emerald colored volcanoes and lakes, and impressive rice fields and mountains. Proudly hailing from this beautiful country, this Philippines Travel Guide is full of personal recommendations, tips, and essential information to help you explore and make the most out of your trip to the Philippines.
Philippines Quick Information
Currency: 
Philippine Peso
Electricity Socket:
standard 220v electricity with mostly type A and B plugs (Standard American plugs). To avoid the hassle of having to buy new adaptors for everywhere you go, we recommend picking up a Universal Travel Adaptor before you leave.
Visa: Nationals from 151 countries may enter the Philippines without a visa and stay for a maximum of thirty (30) days, provided they are holders of a passport valid at least six (6) months beyond the period of stay in the Philippines, and present a return or outward bound ticket to their country of origin or to your next country of destination (They are quite strict with showing an outbound ticket so plan accordingly). Brazilian and Israeli nationals are given fifty-nine (59) days stay based on existing agreements.
Some nationalities can only stay for 7-14 days so it is best to check the government website beforehand. If you plan on staying for longer than 30 days, you can apply for a visa waiver first, granting an additional stay of twenty-nine (29) in the Philippines.
Safety: Lately, the Philippines has been considered an unsafe country to visit due to the war of drugs that President Duterte has waged. Apart from this, there are also strong government warnings to avoid all travel to western and central Mindanao and the Sulu archipelago because of terrorist activity and clashes between the military and insurgent groups.
While I will not deny that there has been an increase in crimes, most parts of the Philippines, especially the main tourist destinations are still very much safe to travel.
Language:
Despite being home to multiple dialects, Tagalog is considered as the National language. However, one of the most beautiful things about the Philippines is that almost everyone speaks English which makes it easier to communicate with the locals.
Festivals and Celebrations: Undoubtedly, wherever you are in the Philippines, there is a big party, festival, or fiesta (local celebration) going on. It is very common for people to invite complete strangers to join in on the fun. A few big ones though are Ati-Atihan in Kalibo which is near Boracay (January), Sinulog in Cebu (January), and Masskara in Bacolod (October). These festivals generally comprise of big street parades with locals showing off their indigenous native costumes. Expect to have lots of street dancing, and local rum drinking.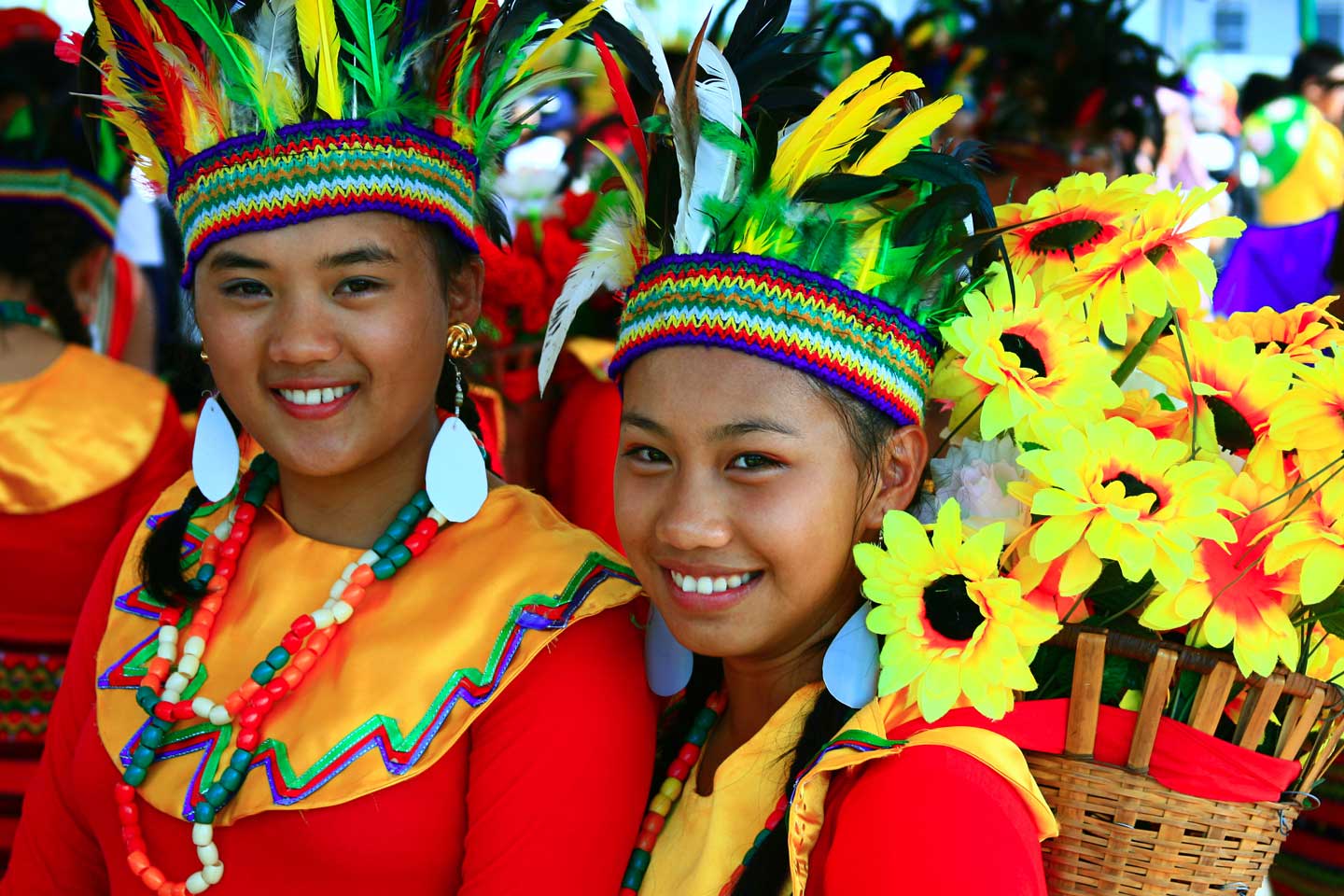 Philippines Trip Planning
While you can visit the Philippines all year round, it is generally better to avoid the wet or rainy season. Although with the exception of big typhoons, during the wet season, days are more likely to be hot with short rain showers in the afternoon so it isn't entirely too bad. In a nutshell, the weather in the Philippines can be broken down into two parts. The dry season (January-May) and wet season (June-December).
What to Pack for Traveling the Philippines
As the Philippines is a warm tropical country, make sure you pack accordingly. If you decide to head up North to the rice terraces, the weather can get cooler so bringing a light waterproof jacket is highly advisable. If you plan to spend most of your time island hopping, make sure you bring ample sunblock or rash guards as protection. Unless you plan on taking on some steep trails, a good pair of training shoes should be enough.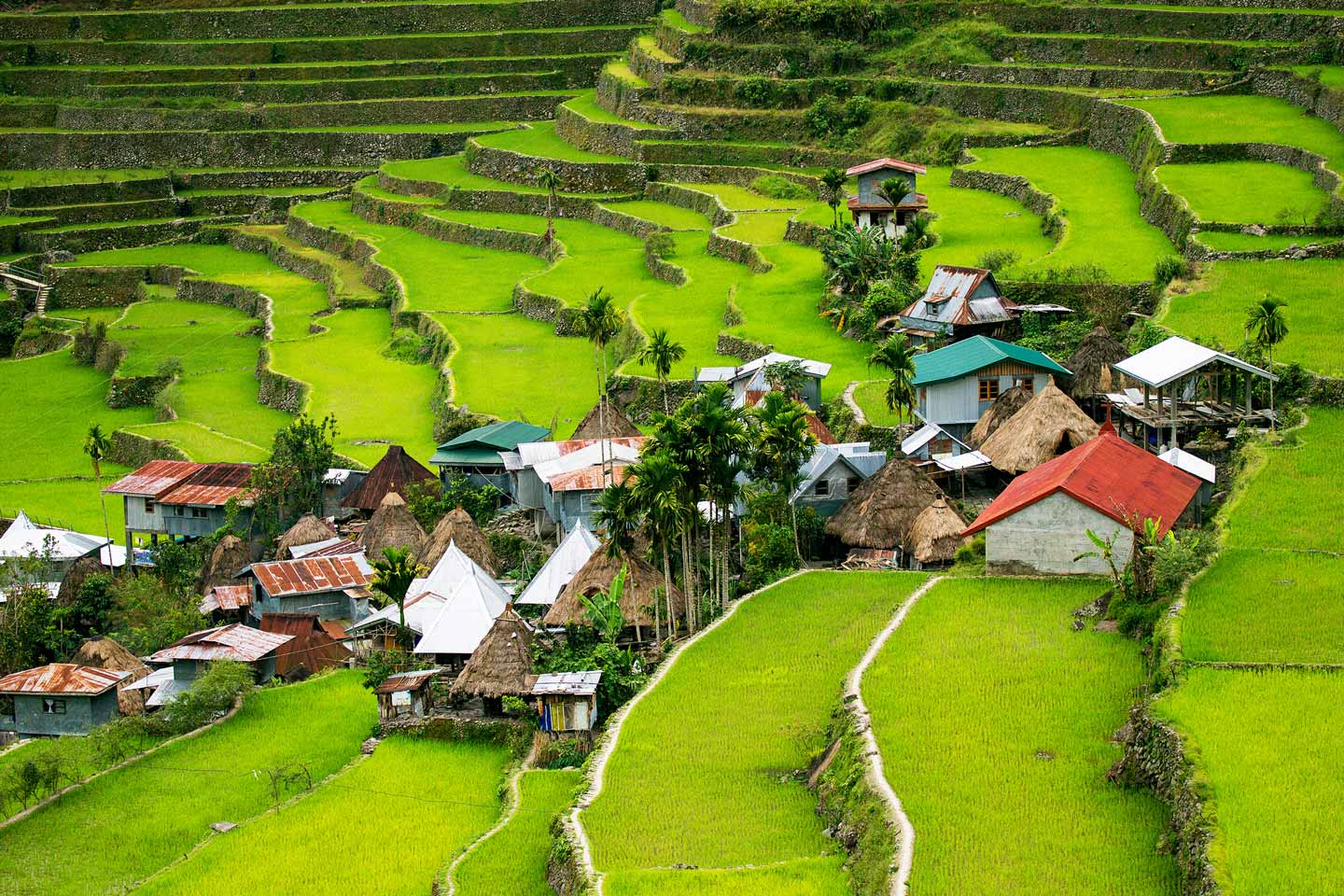 Best Things to Do in the Philippines
Go Hiking Through Rice Terraces and Mountains
While many people head to the Philippines purely to enjoy the many picture-perfect beaches, the Philippines also has some pretty beautiful mountains to climb. One of the best things to do in the Philippines is to head North to the mountain provinces to hike Banaue, Batad, and Sagada. Here, you can find a complex irrigation system built in the impressive rice terraces, which was engineered by the local tribesmen. Apart from the rice terraces, there are also loads of other Philippine mountains to climb like Mt. Pulag, Mount Apo, and Pico de Loro.
Party it Up in Boracay Island
Loosely dubbed as the Ibiza of Asia, if you enjoy partying, head on over to Boracay Island where you can bask in a long stretch of white sand during the day and party it up until sunrise by the many beach bars scattered along the shore. Apart from partying, there are also heaps of adventurous things to do in Boracay that are worth checking out.
Go Scuba Diving in Sunken Shipwrecks
For avid underwater explorers, scuba diving in the Philippines is something that you shouldn't miss. While there are loads of fantastic dive sites in the Philippines, the sunken WWII shipwrecks in Coron, Palawan are considered musts! Other famous dive destinations are Apo Reef, Pescado Island and Malapascua in Cebu which is famous for the thresher sharks. If you want to venture out further to places like Tubbataha Reef, you can also consider doing a Philippines liveaboard diving trip to help you reach untouched sites.
Explore Remote Islands
While I could easily ramble on about all the best beaches in the Philippines, I'm afraid I would never end. From the beaches of the lesser known Gigantes Island to the shores of world-famous Palawan (whose beaches was dubbed as one of the best in the world), there is no shortage of islands to choose from. If you want to go surfing and enjoy world-class waves, go to Siargao Island. If you want to explore beautiful beaches and marine life, head to Palawan. For a good mix of culture, diving, and beaches, head to Cebu, Bohol, Coron, and Dumaguete.
What to Eat in the Philippines
Generally speaking, when it comes to Filipino food, a lot of travelers don't know where to begin. Admittedly, the food in the Philippines isn't as good as other countries in Southeast Asia like Thailand and Malaysia who have countless of street food stalls everywhere. Usually, the best Filipino food is when it is home cooked, best eaten with friends and family. Here are a few dishes that I recommend you try out during your time in the Philippines. As a word of warning, if you're vegetarian, you might have a difficult time traveling around the Philippines as meat is a staple.
Adobo
A meat dish made with either chicken or pork that is stewed with oil, soy sauce, vinegar, and garlic. You can find this in almost every Filipino restaurant and canteen.
Lechon
The ever so famous lechon (whole roasted pig) grabs the bag for one of the must-try meals in the Philippines. Often found during someone's birthday, a local fiesta (party), or on special occasions.
Kinilaw
The Filipino version of ceviche is light, delicious and is served with many different variations to it. Essentially, it is raw pieces of fish or shrimp marinated in vinegar, lime, onions, and chili.
Boodle Fight
If you ever get the chance to do a boodle fight, take it as it is one of the most memorable food experiences in the Philippines. A boodle fight is where you have heaps of grilled fish, grilled pork, vegetables and rice laid out on banana leaves as you "fight" your way through the meal, eating with your bare hands.