Cambodia is a Southeast Asian nation whose landscape spans low-lying plains, the Mekong Delta, mountains and Gulf of Thailand coastline. Phnom Penh, its capital, is home to the art deco Central Market, glittering Royal Palace and the National Museum's historical and archaeological exhibits. In the country's northwest are the ruins of Angkor Wat, a massive stone temple complex built during the Khmer Empire.
Spoken languages:
Khmer; Cham; French
Points of interest:
Angkor Wat, Tonlé Sap, Angkor Thom,

MORE
At a Glance
Cambodia feels like a bit of a hidden gem in Southeast Asia. While it's still a pretty popular tourist destination, it's not talked about nearly as much as Thailand. With spectacular temples, beautiful islands and beaches, and a rich cultural heritage, Cambodia's a place you won't want to miss. While the bustle of the big cities might be the country's main attractions, my favorite places in Cambodia are actually the smaller towns and villages. From the jungles to the beaches, this country is full of amazing sights just waiting to be explored.
Cambodia Quick Information
Currency: 
Cambodian Riel (Although the Riel is the official currency, Cambodia also uses US dollars for almost everything. In most of the country prices will be marked in USD, though you will likely receive Riel as change during a purchase).
Electricity Socket:
230V AC electricity. Power outlets are two-prong round sockets. To avoid the hassle of having to buy new adaptors for everywhere you go, we recommend picking up a Universal Travel Adaptor before you leave.
Visa: A 30-day tourist visa is required for all visitors coming to Cambodia. Visas can be obtained on arrival for $30 in Phnom Penh, Siem Reap, and Preah Sihanouk. You'll just need to bring a passport sized photo with you. The Cambodian government website also offers e-visas, so you can apply beforehand to speed up your entry into the country. E-visas cost an additional $6 and take three days to process. The 30-day tourist visa can be extended at the embassy in Phnom Penh for $45 for an additional 30-days. Citizens coming from ASEAN nations, you can get a free visa on arrival which lasts for 30 days.
If you'll be working in Cambodia, longer stays are permitted if you have a business visa. But for most people, the tourist visa is perfect.
Safety: In general, Cambodia is a very safe country to visit. The Khmer people are friendly and increasingly welcoming to foreigners as the country becomes more and more popular with tourists and travelers.
As with any place you visit, it's important to be cautious. In big cities like Phnom Penh, bag snatching can happen, especially when tourists are riding in tuk-tuks. Keep your wits about you and make sure you keep your belongings close to you. Use the same caution you would in any busy city.
One additional warning about Cambodia: Never wander off in rural areas like forests or rice paddies without a guide. While not common, it is possible to stumble upon unexploded mines. In most of the places you'll be visiting, this won't be an issue, but just take heed from the locals and don't go wandering off in the jungle alone. This isn't the place to indulge your inner Indiana Jones!
Language: Khmer is the official language of Cambodia, although sometimes it's just referred to as Cambodian. It's spoken by over 90% of the country's population. The exact dialect may vary slightly depending on where you are in the country, but most Cambodian natives speak central Khmer, the most common dialect. In recent years, Cambodia has seen a rise in tourism which has led to an increase in the use of English. While the locals in a small village might not understand you, you'll be able to get by easily in the bigger towns and cities using English.
Festivals and Celebrations: Cambodia is a country with a rich cultural heritage, and the Khmer people love to celebrate their traditions with big parties and festivals. If you're visiting in April or May, you'll be able to experience the Khmer New Year celebration. The first two days of this holiday are spent in traditional activities and family gatherings, while the third and final day erupts into a country-wide water fight (similar to Thailand's Songkran, though much more toned down).
At the end of April or beginning of May (depending on the year), the Khmer people mark the beginning of the rice planting season with the Royal Ploughing Ceremony. This more solemn ceremony takes place in Phnom Penh and is an impressive sight to behold.
Perhaps the most festive and exciting holiday celebrated in Cambodia is the water festival, held every year in October or November. Marking the change in the flow of the Tonle Sap and Mekong River. Over a million people congregate in Phnom Penh for the occasion. The city transforms into a festival atmosphere and is a perfect place to experience Khmer culture and its best–and most fun!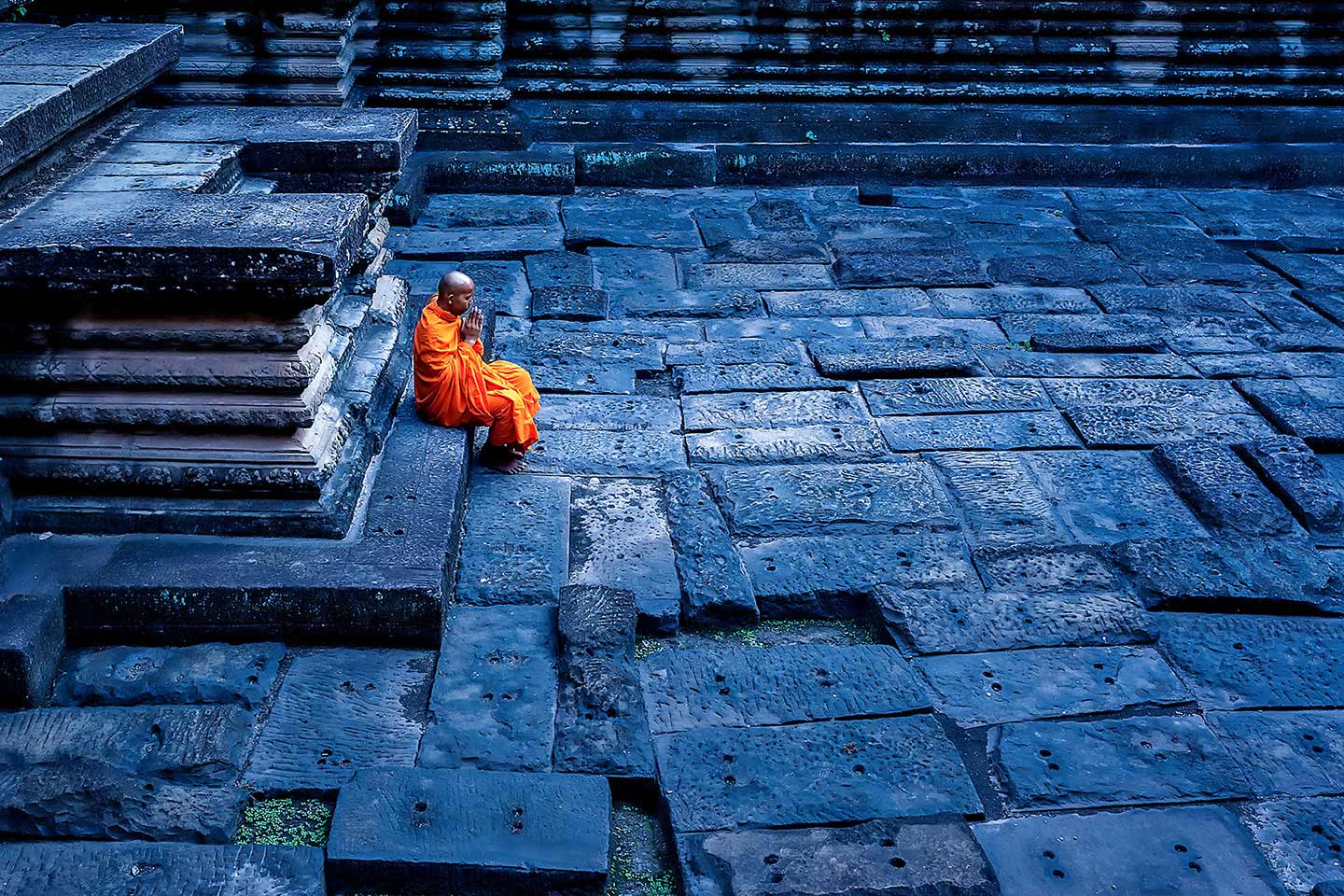 Cambodia Trip Planning
The most popular time to travel in Cambodia is during the dry season, from November to March. In the dry season, temperatures usually vary between 70 degrees Fahrenheit and the high 80s, occasionally getting up to the 90s. April and May are the hottest and most humid months, with temperatures reaching 100 degrees.
The rainy season goes from May to October, and while the temperature will still reach highs of 90, the rain does cool it off a bit. In the wet season, afternoon downpours are routine but don't tend to disrupt daily life very much. If you don't mind packing an umbrella, traveling during this time can be pleasant and a lot less crowded than the high season.
What to Pack for Traveling Cambodia
No matter when you travel in Cambodia, it's going to be pretty hot. The tropical climate means high heat and humidity year-round. Despite that, it can still get cool in the evenings, especially during the "winter" months, so it's a good idea to bring a jacket or sweater. Ponchos are available most places, but it's a good idea to bring a rain jacket if you'll be traveling during the wet season. There's nothing worse than getting stuck in an afternoon downpour without cover!
Major cities like Phnom Penh or Siem Riep will have any amenity you could need, so don't worry if you forget to pack something; you'll likely be able to find it there. For a more detailed account of what to bring, check out our Southeast Asia Packing list guide. After spending almost 3 years traveling around this region, we've got the packing business pat down.
Best Things to Do in Cambodia
Visit the ruins in the Angkor Archaeological Park
The largest religious monument in the world, Angkor Wat is truly unmatched. The temple and surrounding complex engulfs over 400 sq km and is a UNESCO World Heritage Site. Angkor was once the heart of the Khmer civilization, and the temple is now perhaps the best representation of Khmer art and culture. Whether you're interested in history and archeology, or just like taking in the incredible views at sunrise, Angkor Wat is a must-see.
See the Ruins in Ta Prohm
If Angkor Wat is the manicured cultural epicenter, Ta Prohm is its forgotten cousin. Covered in a vast system of roots and vines, this ancient temple looks as though it is being swallowed by the earth. Nestled in the jungle, Ta Prohm leaves visitors feeling like they've entered into a magical place. Now, granted, this place is still a hugely popular destination for tourists, so it's not quite so serene as you might be imagining, but it definitely has a different vibe from the chaos of Angkor Wat and is also considered one of the best things to do in Cambodia.
Relax in Sihanoukville and the Islands
Thailand is often renowned for its idyllic islands, but did you know Cambodia's beaches are just as beautiful? Travel down to Sihanoukville in the southwest of the country and set off from there to some of the country's island paradises. If you're an avid scuba diver, there are a few dive sites around Cambodia that are also worth exploring.
Pristine beaches and clear-blue waters make for the perfect beach vacation, especially in the island paradise of Koh Rong. A warning to the digital nomads out there, though: some of the islands are a little primitive, and while you'll have decent accommodation, you might have a hard time finding a wi-fi signal out there. But after all, who needs wifi connection when you can swim with glowing planktons at night? Seriously, it's one of our favorite things to do in Koh Rong.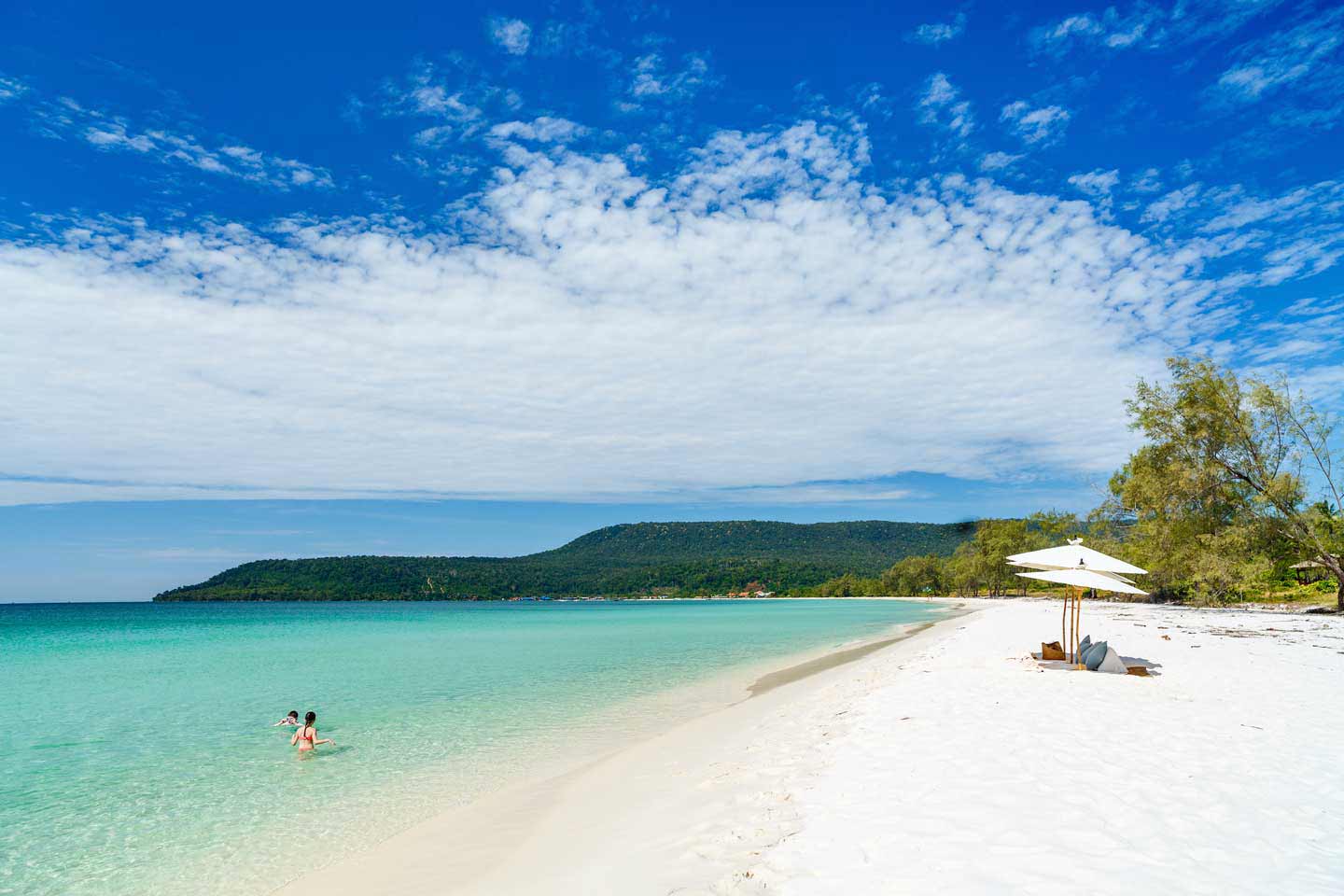 Chill Out in Kampot and Kep
The sleepy riverside town of Kampot, a few hours from Phnom Penh, has become increasingly popular with tourists and expats in recent years. Full of western restaurants, cute shops, and riverboat cruises, Kampot has many of the conveniences of the city without all the people. It's a great place to slow down and relax during your travels. Set up a hammock on the beach overlooking the river or get to know some of the locals and expats living there. It's a place that can easily feel like home. Kep, on the other hand, is another little seaside town that is worth visiting just to eat a plate of freshly cooked pepper crabs. Yum!
Floating Villages of Tonle Sap
Tonle Sap is the largest freshwater lake in Southeast Asia. You can travel to the lake in Siem Riep and explore the area's natural offerings, from unique ecosystems and wildlife to the "floating" villages. While you can definitely explore the area yourself, it's easiest to book a tour so you can experience a tiny slice of village life on the lake without the hassle of trying to navigate it yourself. The floating villages of Tonle Sap are a vibrant and colorful part of Khmer culture and can provide a much-needed respite from the chaos of the cities.
Understand Cambodia's History
While a visit to the historical parts of Phnom Penh like the S21 Prison and the Killing Fields may be considered as debbie downers, they are absolute musts in every visit to this country. While the entire experience is painful and depressing, it will give you a new sense of understanding towards the true resilience and kindness of the Cambodian people. Apart from visiting these historical sights, there are loads of other things to do in Phnom Penh that we recommend doing. If you're looking for volunteer opportunities, a visit to the Mondulkiri Project to support rescued elephants is also something we've done in the past and highly recommend.
What to Eat in Cambodia
While Cambodian food might not be as well known as neighboring Thailand's, it's a unique cuisine full of vibrant flavors and spices and is a must-try when you're in the country. If you're a person with timid taste buds, the food here might sound scary to you, but trust me, it's worth a try. Here are some of the most popular and common dishes available in Cambodia.
Bai Sach Chrouk (pork and rice): This is one of the simpler dishes, and should satisfy even the pickiest eaters out there. Sweet pork is grilled, often marinated first in coconut or garlic, and served over warm rice with a side of pickled cucumbers and radishes and broth. This is a common breakfast item in Cambodia, and you'll find it on most street stalls throughout the country.
Fish Amok: While the idea of a "fish mousse" might sound repulsive, this curry dish offers a warm and buttery melt-in-your-mouth taste that perfectly balances local herbs like lemongrass and ginger with just the right amount of spice. This is one of the most popular dishes in Cambodia.
Lap Khmer (lime-marinated beef salad): Similar to ceviche, Lap Khmer features thin slices of beef that are marinated in lime juice and spices. Sometimes the beef is lightly seared first. Packed with fresh chilies, this is definitely not a dish for those with sensitive palates!
Nom Banh Chok (Khmer noodles): While you might think of noodle soup as a perfect lunch or dinner meal, in Cambodia it's actually most popular for breakfast. You can find it at street stalls or from vendors wandering the streets in the early mornings. Rice noodles are combined with a fresh green curry sauce and topped with bean sprouts and other vegetables.
Khmer Red Curry: Khmer red curry is similar to the famed curries of Thailand, but with just a little less spice. A creamy coconut milk base blends with chunks of beef, pork, or chicken and a blend of local herbs and spices. You can eat it over rice, but in Cambodia, it's most often served with bread.